Why Your Employee Recognition Program Should Have its Own Name

R Scott Russell, CRP, CEP
Before implementing an employee recognition program, it is important to take the time to brand your program to optimize its effect for your employees. A corporate brand should already be established before creating a program brand. By doing so, you will already have determined your target audience and researched your competition before adding a new line of business. A good example is Gap Kids. Though Gap Kids has a very particular target audience (Gap shoppers with kids), it's part of the corporate brand Gap, Inc.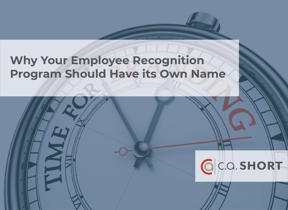 C.A. Short Company has several programs under our corporate brand, including safety initiatives, an employee engagement platform, and more. Many of the programs have changed their look and feel over our 80+ years in business. Is your company building a program brand? Let us share with you four valuable points you should consider. And yes, these questions helped our company, too!
Does your brand reflect back to your mission statement?
What should you name the program?
Do you want your program to have a slogan or tagline?
What is your logo?
Does Your Brand Reflect Your Mission Statement?
Your brand is the lifeline that connects the consumer back to your product, and in turn, it should convey your company mission statement. A mission statement defines an organization's purpose and ambitions, and should be reviewed regularly. If you do not have a mission statement, it would be a wise investment of time and resources to develop one.
What Should You Name Your Employee Recognition Program?
I suggest that you spend a considerable amount of thought in creating a name for the program brand. The program name is the first and possibly the most significant point of contact for your customers. If it is a corporate program brand, hire a marketing firm when possible. The Internet is also a powerful resource for gathering ideas and information.
What Is Your Employee Recognition Program's Tagline?
Adding a slogan or tagline can give you the flexibility to speak to several different audiences at various times. An example of this is C.A. Short Company's slogan: People Are Everything. It is a statement we believe in and support, but it's not specific to a particular industry.
What's Your Logo?
When designing a logo for your brand, make sure to incorporate elements from your corporate logo. For example, use the same font, colors, icons, and imagery. Pay special attention to blending the brands together to look like one company, rather than giving the appearance of disconnect.
C.A. Short Company has done this with our different programs: Service Award Programs, Safety Incentive Programs, and Total Recognition Programs.
At C.A. Short Company, we are your partner for increased employee engagement resulting in increased performance outcomes to grow your bottom line. Our process and research-based platform helps you engage your team in order to increase your bottom line, motivate your staff to the benefit of the entire organization, and reward your people for the positive changes they make. To request a Complimentary Consultation, please click here.