5 Elements of Successful Service Award Programs: Meet Eddie Littlejohn

C.A. Short Company
How to Create a Successful Service Award Program
Last week, C.A. Short Company hosted our annual service award program at our Shelby, North Carolina facility. It is always a great time to celebrate the hard work and dedication that our employees exhibit year after year. This is an exciting time for C.A. Short Company - we have recently launched our People Are Everything employee engagement platform, our PeopleAre™ mobile application, and we are continuing to grow our team and our product lines. With all the change and improvements to our company, the theme of this years' service award banquet was, "Race to the Chase: Welcome to the New Age."
The C.A. Short Company service award banquet focuses on 5 key elements of employee recognition:
Human Interaction: Our employees always receive a personal congratulations and handshake from C.A. Short Company CEO, Jeff Ross.
Peer Recognition: The service award honorees are presented their award on stage in front of their co-workers, who are then congratulated with a warm round of applause.
Useful & Desirable Awards: As part of our strategic employee engagement platform, service award recipients are given points that can be redeemed online for name brand rewards.
Family Involvement: Employees celebrating an anniversary are encouraged to invite their family to the banquet as well. It's a great time for their loved ones to see the impact they make on our business.
Immediate Gratification: Once redeemed online, employees rewards are shipped directly to the employee's home generally within one week of redemption.
Celebrating Eddie Littlejohn & His 30 Years of Service with C.A. Short Company
During this years' service program, we recognized the anniversaries of many of our team members, starting at their 1-year of service with our company. However, we wanted to take a moment to highlight and honor an extra special recipient, Eddie Littlejohn, who celebrated his 30th Year of Service with C.A. Short Company! That is a huge accomplishment and we couldn't be more honored to have Eddie as part of a team.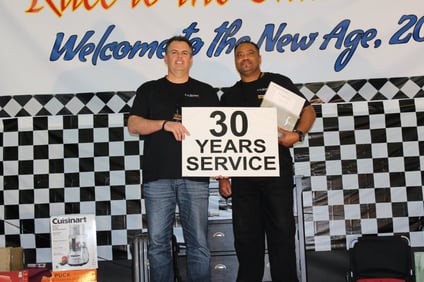 Eddie literally helped build C.A. Short Company from the ground up. As a teen, he helped his father build one of our warehouses, and to this day, his footprints can be seen on the steel beams from when they were laying the piles.
When asked about one of his most memorable moments at C.A. Short Company, Eddie remembered when he threw a rubber snake at his pal, Roland, who nearly fell off the forklift and ran out of the warehouse. Eddie has been married to his long-time wife, Sybil, for 29 years, and they have two children. He loves to sing and enjoys traveling to the beach. The song he says best describes his life is, "Hold on (Change is Coming)" by the Sound of Blackness.
Eddie is notorious around the building for creating funny nicknames for his co-workers. One of our favorites is his nickname for our president, Jeff Ross. He refers to Jeff as "Grip" because he likes to grip onto money. We always know when Eddie is coming down the hall, as he's well known for whistling tunes while strolling through the building.
Eddie works as a Material Handler in our Shelby, North Carolina warehouse. He is an invaluable asset to our company and he plays an integral role in the day-to-day operations of our facility. A BIG thank you to Eddie Littlejohn, not only for his commitment to the success of our company, but for his amazing sense of humor and hard work.
Recognizing employees for their years of service to your organization is vital. Not only does it recognize employee's invaluable contributions, it also inspires their peers and creates a sense of mentorship and leadership.
Does your organization have creative ways to show appreciation to your employees for their years of service? We'd love for you to share your stories with us in our comment section below!
At C. A. Short, we are your partner for increased employee engagement resulting in increased performance outcomes to grow your bottom line. Our process and research-based platform help you engage your team in order to increase your bottom line, motivate your staff to the benefit of the entire organization, and reward your people for the positive changes they make. To request a Complimentary Consultation, please click here.