7 Tips for Creating Years of Service Awards in the CPG Sector

Pam King, National Account Manager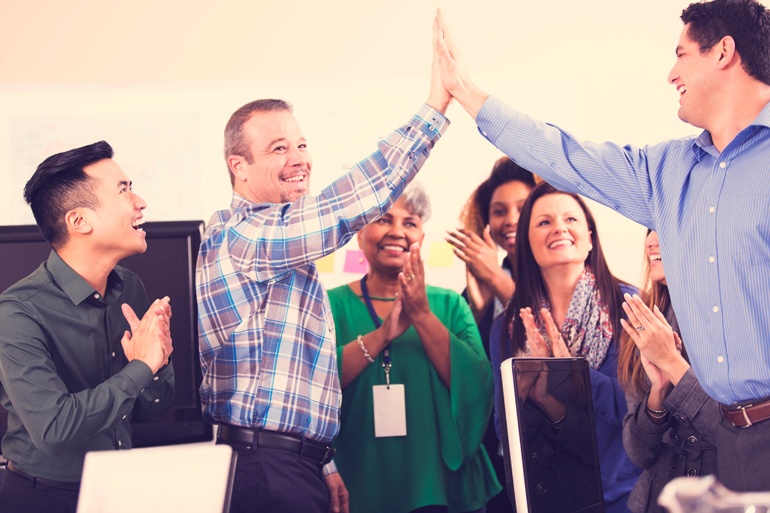 Can you name your company's greatest asset?
I'll give you a hint. It's not your streamlined processes, your patented intellectual property, or even the superior products you produce – it's your employees.
More than any other factor, your business' success is directly tied to the dedication of your team. So when an employee reaches a major milestone in your organization, it's crucial you honor their years of service in a meaningful way. This is especially true for companies in the Consumer Packaged Goods (CPG) sector.
Let's take a closer look at why this is the case and what steps your organization can take to create Years of Service awards that are as awesome as your employees.
Why are Years of Service awards important in CPG?
We could talk about the record-high turnover rates in the transportation industry – by the end of last year driver turnover rates exceeded 95%.
We could just as easily cite the warehousing industry's inability to attract new workers – there are shortages in the tens of thousands.
We could even mention the changing attitude towards jobs in CPG – less than 20% of millennials consider manufacturing a top career choice.
But let's focus on the best reason companies in CPG should honor their employees. Simply put, it's the right thing to do.
Your employees are more than just names in a database, numbers on your payroll, or anonymous workers in your factory. They are human beings who are free to choose how they spend their life. And every second they're on the clock for you, they could choose to work for another company, spend time with their family and loved ones, or do anything else they please.
Instead, they are working for you.
Their commitment is why it's imperative you let your employees know they're appreciated. The following seven tips are designed to help your organization do just that. And, while this list was compiled for businesses in the CPG sector, they are true for any industry.
7 tips for creating successful years of service awards
#7 Start planning early
If you want to create a Years of Service award program that works, you'll need to start planning today! A word to the wise — don't rush the process. A meaningful awards ceremony may take months of preparation, but the results will be well worth it. To take some of the pressure off, consider working with an outside engagement and recognition firm.
#6 Get buy-in
Buy-in is important at each level of your business. Whether your company is retooling your "why" statement, creating the next blue ocean, inventing new products, or showing appreciation to your longtime workers – it's crucial your whole team is on the same page. This includes everyone from senior management to brand-new hires. If there are members of your team who don't understand the power of employee recognition, you might find sharing the following resources helpful:
#5 Offer service awards more often
Employee turnover is a threat to every business, but it's especially challenging for those within the CPG sector. Offer Years of Service awards at more frequent intervals than the standard five-year mark if you want to keep your team excited and enthusiastic. When you recognize employees sooner, and more often, you're more likely to retain their talent through the ups-and-downs of life and work.
#4 Thank them publicly
When employees receive years of service awards, recognize them publicly in front of their peers. This makes the award more special for the recipient, while inspiring their co-workers.
#3 Invite their family and friends
When honoring an employee for their years of service, invite their family and friends to attend the ceremony (make it a surprise if you can!). After all, it's about honoring the employee, and they should be surrounded by people they care about most.
#2 Reward your employee with the award of their choice
When it comes to rewarding your employees for their hard work and dedication, consider letting your employees choose their reward. You can do this when you award them points they can redeem for the reward of their choice.
#1 Make this part of a larger, everyday recognition strategy
Honoring your employees when they reach milestones is absolutely essential. But don't limit your recognition efforts to a once-a-year event! To make the greatest impact possible, your Years of Service program should be part of a total employee recognition and engagement strategy.
This holistic approach can have a dramatic impact on your organization, leading to:
17% higher productivity
70% fewer safety incidents
20% more sales
21% higher profitability
24% - 59% lower turnover
40% improvement in quality
Benefits of creating a total employee recognition and engagement strategy
When your business invests in a comprehensive engagement and recognition strategy, your company's bottom line isn't the only thing that benefits. Your employees also win – experiencing increases in enthusiasm, productivity, loyalty, and overall well-being.
And, in the end, that's what all of this is about – investing in your greatest asset.
For more information on how you can help your employees, download our complimentary checklist, Creating a Total Recognition Program. Would you like additional help setting up a Years of Service award program at your organization? Give us a call today.
At C. A. Short, we are your partner for increased employee engagement resulting in increased performance outcomes to grow your bottom line. Our process and research-based platform help you engage your team in order to increase your bottom line, motivate your staff to the benefit of the entire organization, and reward your people for the positive changes they make. To request a Complimentary Consultation, please click here.