Great Ideas for Service Award Banquet Themes

R Scott Russell, CRP, CEP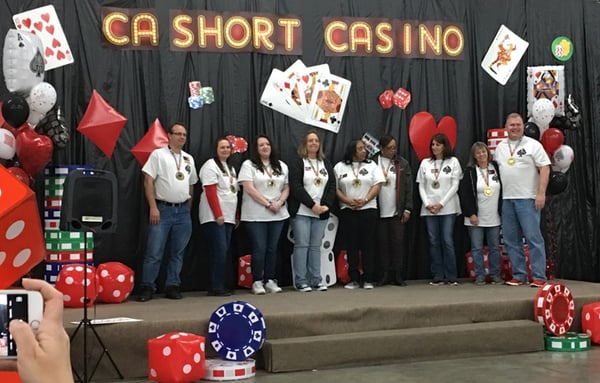 Your company gets it. You know your employees are the lifeblood of your organization; you understand how important it is to reward them for their hard work; and you realize just how critical it is to recognize your team for their years of service.
But when it comes to throwing a great service award banquet that makes a lasting impact, you could use a little help. Good news, C.A. Short Company has you covered with three ideas that are sure to be big hits!
Spin the Wheel
If you can't take your team to Las Vegas, do the next best thing — bring The Strip to them!
Consider hosting a casino-themed night where employees can win prizes. Better yet, let your team CHOOSE the reward of their liking. You can achieve this by awarding your employees with points, which they can use for betting and later redeem for the item(s) of their choice.
It's a lot of fun – seriously! You can see for yourself in these photos from our 2018 Service & Performance Awards Banquet: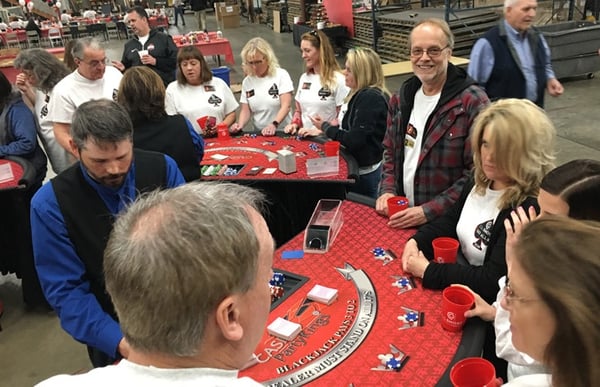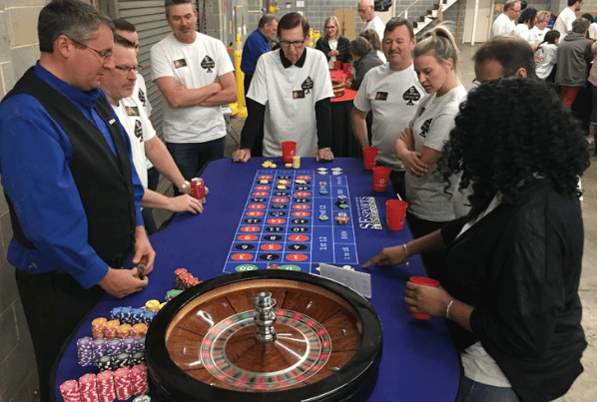 Looking for something a little more reserved? There are plenty of options at your disposal. You can host a carnival night, filled with skill games and events. Or you can take things to the next level with a game show-themed night. Maybe the Price is Right is your answer, or Wheel of Fortune, Deal or No Deal, or Who Wants to be a Millionaire.
Your choices are near limitless.
Be a star
Draw your inspiration from the stars – you know, the kind that appear on TV or in film.
Consider hosting a service awards banquet that's themed like the Emmys, the Oscars, or – if you're especially daring – the Tonys. Neil Patrick Harris will probably be busy, so be sure to select a great host, even if that means bringing in outside talent.
Add the finishing touches by rolling out the red carpet, literally! You can even hire some "paparazzi" to take photos of your employees as they arrive with their significant others. You can share the images on your engagement platform, social media, or on a private intranet.
Drop the mic
Let your employees behave like rockstars for the night – well, within reason. You can have teams compete in a Karaoke battle, judge who has the best air-guitar, or let your team show off other unique talents they may have. The audience can even cast their votes with points!
Just can't take hearing Carol sing "Free Bird" for the millionth time? We get it. Maybe a better option for you is to hire a band that plays a wide variety of music. Or stick to tunes from the 70s, 80s, or 90s and make the banquet decades-themed. Encourage your team to dress up in the popular attire of the day, and vote on your favorite costumes.
The most important thing…
Keep in mind, the success of your service awards banquet doesn't depend solely on the banners you hang, the playlist you program, or the decorations you choose. The single most important thing is that you focus on what really matters – honoring your employees for their years of service, loyalty, and contributions. For tips on how to accomplish this, check out our blog, "5 Elements of Successful Service Award Programs: Meet Eddie Littlejohn."
Just remember that recognizing and rewarding your employees shouldn't be limited to a once-a-year (or less) event. To have the greatest possible impact, you should engage, recognize, and reward your employees on a continual basis.
For ideas on how you can achieve this by creating a Culture of Engagement at your organization, you can download our complimentary eBook, "35 Ways to Influence Corporate Culture and Increase Your Bottom Line." Looking for even more information? Feel free to reach out! We'd love to show you how C.A. Short Company can help your business recognize your employees year-round.
At C. A. Short, we are your partner for increased employee engagement resulting in increased performance outcomes to grow your bottom line. Our process and research-based platform help you engage your team in order to increase your bottom line, motivate your staff to the benefit of the entire organization, and reward your people for the positive changes they make. To request a Complimentary Consultation, please click here.