How to Encourage Peer 2 Peer Employee Recognition in the Workplace

R Scott Russell, CRP, CEP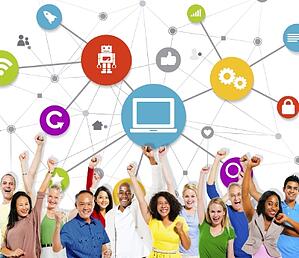 Engaging employees and providing real-time recognition can be a challenge. There are many questions to consider such as, what are the best tools to boost employee engagement? How can you encourage peer-to-peer recognition the most meaningful way? Should you leverage social media to increase engagement?
It's Not Magic; It's a Software Platform
Fortunately, implementing an employee recognition software platform can alleviate your concerns. Utilizing a recognition platform allows you to design a program that brings total recognition to the forefront of your workforce by adding processes that promote genuine appreciation between peers, in a relaxed and social atmosphere.
In today's marketplace, it is a tremendous challenge for companies that have employees in multiple offices and locations to centralize and streamline peer-to-peer recognition. Often, locations outside of the "corporate headquarters" feel excluded from the day-to-day employee recognition activities. Using an employee recognition software platform allows you to connect all your employees virtually. It sets the stage where employees can see each others achievements and applaud peers, which are a few basic catalysts for raising engagement.
The Rewards of Peer-to-Peer Recognition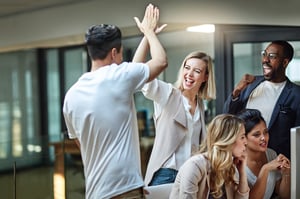 Let's say that your company is in the healthcare industry, and your team hit an all-time high with patient satisfaction scores. Though each person contributed to the high scores, it's a true team achievement! By using a recognition platform, your president or CEO can post a company-wide thank you video or a message and your platform administrator can send an eCard to every team member with just a quick click. It is instant and earnest recognition that touches each and every employee. Users can also use a social media recognition module to post gratitude messages and accolades to team members. This fosters a positive environment and team spirit that every organization strives to achieve. Other ways to show Peer 2 Peer recognition:
Create a Wall of Thanks
Place a message board in a public area, and designate it as a "Wall of Thanks." Encourage employees to honor their co-workers by posting thank you notes, positive customer feedback, or even photos of their team members hard at work.
Encourage Post-it, Praise-it
Provide your employees with sticky notes and encourage them to leave positive messages on their co-worker's desk or station. Employees can do this throughout the day or wait until an employee leaves for lunch or a break, then cover their computer with notes of praise.
Award Instant Points
If you want your peer-to-peer recognition program to deliver the greatest impact, award your employees with instant award points they can use to honor their co-workers. At C.A. Short Company, we give each employee a set of points they can award to their team members in the form of eCards. If the points aren't assigned to their peers within a certain time limit they expire. Employees can then redeem their points for the reward of their choice.
Activities like these help to train your employees to look for ways to recognize and appreciate their peers, to look for the good, and to give instant feedback about their co-workers' performance.
So, does a recognition platform that encourages peer-to-peer recognition and leverages social interaction really work? Absolutely! It could be an eCard, a post to an internal social media platform or even a video post to the platform. When utilizing the tools of a recognition portal, you open endless doors for recognition, engagement, enthusiasm, and teamwork. Thanks to technology, combining the demands of your business with the organization's desire for employee recognition and engagement becomes a true possibility!
At C.A. Short Company, we are your partner for increased employee engagement resulting in increased performance outcomes to grow your bottom line. Our process and research-based platform helps you engage your team in order to increase your bottom line, motivate your staff to the benefit of the entire organization, and reward your people for the positive changes they make. To request a Complimentary Consultation, please click here.