Years of Service Awards: Critical to Building a Culture of Employee Recognition

R Scott Russell, CRP, CEP
A Personal Touch to Employee Service Awards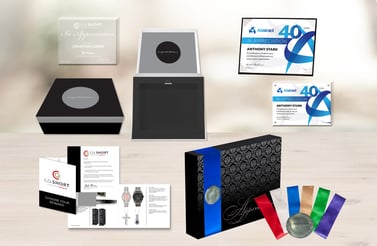 Here's the thing. Technology makes all of our lives easier. We couldn't do business without email, computers, and cell phones. No one is denying that it's probably a bit more cost effective, and definitely quicker to offer everything via the Internet. However, we think that some aspects of business, including employee recognition, should be more personal than a simple email announcement. Do more than tell your employees they matter — show them. It's all about creating memories that last a lifetime.
The Importance of a Years of Service Award
A Years of Service Award Program is about more than just getting a gift for sticking around. A systematic service award program encompasses the event, the award, and the recognition experience. By providing tangible, personalized presentation options that fit with the organizational culture and budget, you are able to maximize the impact and improve overall satisfaction of the program itself.
Not only do tangible presentation options maximize the program's impact, but it also falls within the 5 Elements of Recognition that include human interaction, the ability to be recognized by our peers, and family involvement. All components of a
Depending on your organization's service award goals, C.A. Short Company offers an extensive array of presentation options that fit even the smallest budget. Some of them are as simple as a personalized certificate while others include custom acrylic plaques with logo pins, pens, and/or key chains. Want something extra special, our team can develop a presentation option that is customized to the unique needs of your organization. Regardless of your particular needs, having a core Years of Service Program is an important part of the foundation needed when building a culture of employee recognition.
Service Technology a Must-Have?
Don't get us wrong. we firmly believe that online software as a service technology is a must-have for any Employee Recognition Program, including service awards. Online ordering, administration, and social recognition are just as important to any strategic employee recognition program. But while it may take a bit more time and resources, the inclusion of tangible facets to your Service Award Program will prove to increase employee engagement and morale. We're all experiencing a new world of employee recognition. Let's build programs that Honor, Inspire and Retain. We're all about developing traditional anniversary awards for a modern workforce. We're blending the best of both worlds...
At C.A. Short Company, we are your partner for increased employee engagement resulting in increased performance outcomes to grow your bottom line. Our process and research-based platform helps you engage your team in order to increase your bottom line, motivate your staff to the benefit of the entire organization, and reward your people for the positive changes they make. To request a Complimentary Consultation, please click here.