Employee Holiday Programs: Start Early & Make It Personal

R Scott Russell, CRP, CEP
We all know that employee recognition is not a once-a-year event. However, the holidays are a great time to show appreciation for your employee's hard work and dedication. In order to have a successful program, you need to make it personal and you have to start EARLY. Today we will be breaking down the importance of personalized employee holiday gifts and the positive effects they can have on your employee engagement.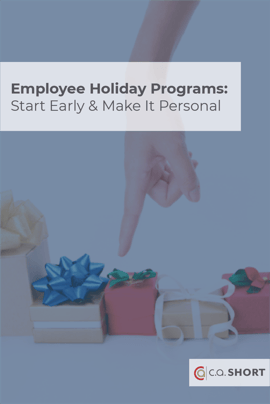 The Perfect Employee Holiday Gifts
A recent survey found that 8 in 10 U.S. employees have received a workplace gift, mostly from managers, that they didn't want. From holiday gifts, to birthdays, and anniversaries, the survey shows that employers should add more thought into their gift giving strategy and stray away from the basic corporate gifts such as a branded company mug or blanket.
But, what is the perfect employee gift during the holidays? Gift cards are popular for employers, but they come across as an impersonal and cold approach. Not to mention, gift cards cause an accounting nightmare.
How about getting the same gift for the entire workforce? Even if it's a gender neutral gift, the chances of pleasing everyone are slim to none. Every employee has his or her own personality and charm. Defining the perfect gift for one person might be a joke to another.
We have found that most employees prefer to have the opportunity to pick their own gift. At C.A. Short Company, we give our employees an opportunity to select their own gifts, while simultaneously adding a personal touch.
We Use Personalized Gift Giving Too!
We would be hypocrites if we did not use our own program, right? Each year, the employees of C.A. Short Company receive a catalog with a nice personal message from our president. The catalog gives our employees the opportunity to select a gift that has meaning.
Four years ago, I chose a small slide for our children. Anytime we were outside of the house, the kids were playing on the slide. I would be remiss if I didn't also admit that it often came inside on rainy days. The kids have finally outgrown it, but we have given it away to another family. That is a gift that keeps on giving.
Not only did this gift benefit our family for multiple years, it provided a unique emotional connection nonexistent in prior non-personalized gifts. I had the ability to choose something that connected with me and my family, rather than a typical gift card that would last only one use.
Holiday Gift Giving and Employee Engagement
An additional approach we offer to employee Christmas gifts is the use of our Total Recognition platform, People Are Everything™.
PAE, stems from the same concept as using the catalog approach, but gives the employer the opportunity to allocate a certain number of points with a personal message as a gift. The employee benefits from this because if they were already accumulating points, they can use these extra points for a larger gift or multiple gifts. This strategy can tie into your existing employee engagement program and really give your employees the opportunity to get bigger and more unique Christmas and holiday gifts.
No matter which approach you choose, Either approach both adds a personal touch to the holidays and allows the employee to select something that is meaningful to them and their family. I am the proof of this fantastic program because I feel appreciated each year for my hard work and dedication.
Now is the perfect time to start planning for your 2020 employee Christmas gifts. By partnering with C.A. Short, we can help you build a holiday gift solution catered to improving employee engagement and inspiring your employees. Showcase your appreciation with unique and personalized gifts. Contact us today to learn more about our process and our award-winning recognition platform.

*Editor's note this blog was originally published on August 8th, 2016 and has recently been updated.