Give Millennials What They Really Want - Experiences

R Scott Russell, CRP, CEP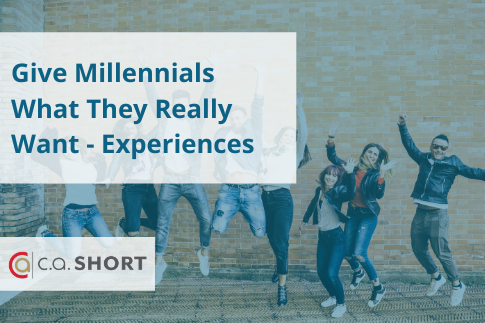 If the assent of millennials in the workplace once seemed like the slowest moving train in the world of demographics, it's safe to say that train has finally reached the station.
During the Recession of 2007, the oldest millennials were getting ready to enter the workforce at the same time the U.S. economy was shedding jobs at the fastest rate since before World War II. Now, a decade since that recession was officially declared over, millennials are the most represented generation among employees — and still climbing.
Considering that millennials are perhaps the most studied generation, chances are you're familiar with at least some of the data on that group's tendencies. As a human resource or engagement officer concerned with retaining your organization's top talent, it's critical you know this: according to a recent poll, millennials feel the least engaged at work and they are the most likely to seek out and find new opportunities. While that represents a challenge, it doesn't mean you can't counter that trend.
How Do I Engage My Millennial Workforce?
Greater Emphasis on Work-life balance
One of the keys to nurturing a feeling of engagement is learning what millennials want and delivering it. Let's focus then on what's at the top of their list outside the workplace – experiences. Work/life balance is vitally important to millennials and they put a premium on the quality of the time they spend outside working hours.
Millennials are not even an outlier — Boomers and Gen-Xers are among the demographic groups that apparently have reset their priorities. In one poll, nearly three quarters of Americans said they favor experiences over possessions. The majority of those respondents said they were saving money for travel, and among millennials, it was an emphatic 65%.
Supportive Mentors & Coaching
Another thing that sets millennials apart from prior generations is a tendency toward restlessness. Rather than finding contentment in mastering the requirements of a job, they are more likely to seek greater challenges. Also – and this is where your engagement strategy is key – they want to be recognized and praised when they rise to that challenge. Forget traditional management styles when it comes to millennials. When they look at their manager, they want to see more of a supportive coach or mentor than a boss.
Feelings of Connectedness
What else makes millennials feel engaged? They need to feel the company that employs them is aligned with their views and values. They want to feel they connect with the culture. And, they want to feel that they are growing. Millennials want to be seen and heard, and in this group, growth is how each individual interprets it. For one team member, it could mean the opportunity to lead a new project. For another, working with a dedicated mentor fulfills that need.
Knowing that millennials need to be heard, the logical place to start is bringing them into the conversation. Ask their opinion. Provide feedback often and have honest conversations about job performance and workplace culture. For millennials, there's nothing like communication to help bridge an engagement gap if one exists — or to maintain and enhance levels of engagement.
Company Atmosphere and Culture
If limiting turnover among your millennial team members is a priority, you would be wise to invest time and resources into assessing your company's atmosphere and make any changes necessary to become millennial-friendly. There's no time to waste. Millennials report for the first day of work with one foot already out the door. An eye-opening 60% say they are open to a new job opportunity and half expect to be with a new company a year from now!
Why Utilize Experiences for Increasing Millennial engagement?
Now, let's veer back to those experiences your millennial workforce holds so dear. Money might not be the end-all for millennials, but that doesn't mean they don't want more than what they need to get by. It's what they do with their disposable income that further sets them apart from prior generations. Rather than accumulate things – especially big ticket items like houses, cars or expensive furniture – millennials prefer to earmark their extra funds for travel and other coveted experiences. In fact, the vast majority of millennials queried in another recent poll said they consider one-of-a-kind experiences crucial to their lives.
That's why it's in your company's best interest to explore solutions like our Next Generation Incentives, including a variety of experience-based rewards, as part of your plan to recruit and retain millennials. They crave customized travel experiences and now it's easier than ever to help them get there. Offering a program where employees can earn points for performance and other incentives and redeem them later for carefully curated trips to places or events they want — such as concerts or a World Cup finals weekend — is the ticket to the types of experiences they covet.
Work with a professional recognition and reward company
Finally, to maximize your recognition efforts and minimize your headaches, it's a good idea to work with a proven recognition leader. Just be certain you choose a quality recognition and reward provider, as not every solution is created equal. Before partnering with any third party, do your homework:
Research the company and their track record.

Do they have a rich history in the world of employee engagement and recognition, or are they a new and unproven entity? What companies have used them and what results have they achieved?

Request a demo.

The proof is in the pudding. Any company worth its salt will offer a free demo of their tools and/or consultation.

Inquire about support.

Many companies are quick to help you during the sales process, though not many stick around after you shell out the big bucks.
Choose a provider such as C.A. Short that offers superior and ongoing support — from sales to implementation, and beyond.
Want to learn more? Download our free ebook, A Guide to Retaining Top Millennial Talent.