Three Ways to Accelerate Employee Engagement (Part 2)

Jeff Ross, CPA, CRP, CSM
This is the second entry in our three-part series on how to accelerate employee engagement. If you missed part one, be sure to view it here, prior to reading on.
So, now that we've opened up on how to select the right people to lead your workforce, we must now set our sights on the next important action on the road to total engagement: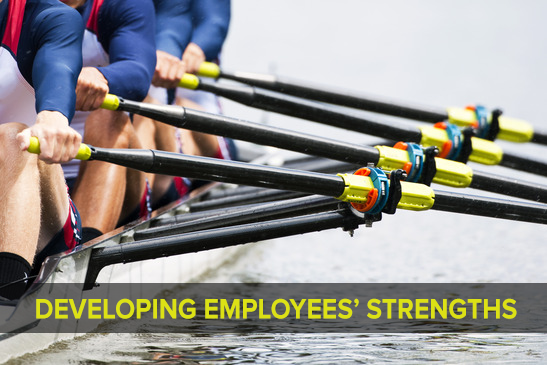 Action 2 - Develop Employees' Strengths
In addition to delving into the patterns of great leaders, Gallup researchers also studied human strengths and behaviors for decades in order to establish a viable connection between employee engagement and their strength within the workforce. What they discovered was that individuals who use their strengths on a daily basis are six times more likely to feel engaged at the office.
If you wish to give employees the best opportunity possible to grow and develop their unique set of skills, you have to observe how they naturally think, feel and behave and then embrace those characteristics. When performance comes naturally, it's more likely to be effective in the long-term for both the individual and the organization. To better understand how this works, look at Gallup's Strength Orientation Index, which measures a company's ability to cultivate their employees' strengths.
The four queries of Gallup's Strength Orientation Index:
Every week, I set goals and expectations on my strengths.
I can name the strengths of five people I work with.
In the last three months, my supervisor and I have had a meaningful discussion about my strengths.
My organization is committed to building the strengths of each associate.
Using a sample of the workforce population, Gallup tested these items and found that only 3% of employees agree with all four. This is why engagement is so important. Not only could you be missing opportunities to best utilize your team members, but you may also be limiting your ability to recruit and retain talent, based on how involved you are in knowing, enhancing and embracing said strengths. The approach you take has a profound effect on the results you have.
Focusing on employees' strengths relates to increased bottom-line
The last piece to note is Gallup also found that by focusing on employees' strengths, companies saw an improvement in individual wellbeing and in the bottom line. For the individual, it's caused by knowing your worth to the organization and also believing in the work you do. This leads to more positive emotions and a more encouraging outlook overall. Profit-wise, engaged employees tend to work harder and more efficiently because they see themselves as a valuable asset to the organization and understand they have an opportunity to grow with the company as a participant, rather than an observer.
Be sure to stay tuned for the final installment of our three-part series, in which we will discuss how to enhance your employees' wellbeing.
At C.A. Short Company, we are your partner for increased employee engagement resulting in increased performance outcomes to grow your bottom line. Our process and research-based platform helps you engage your team in order to increase your bottom line, motivate your staff to the benefit of the entire organization, and reward your people for the positive changes they make. To request a Complimentary Consultation, please click here.