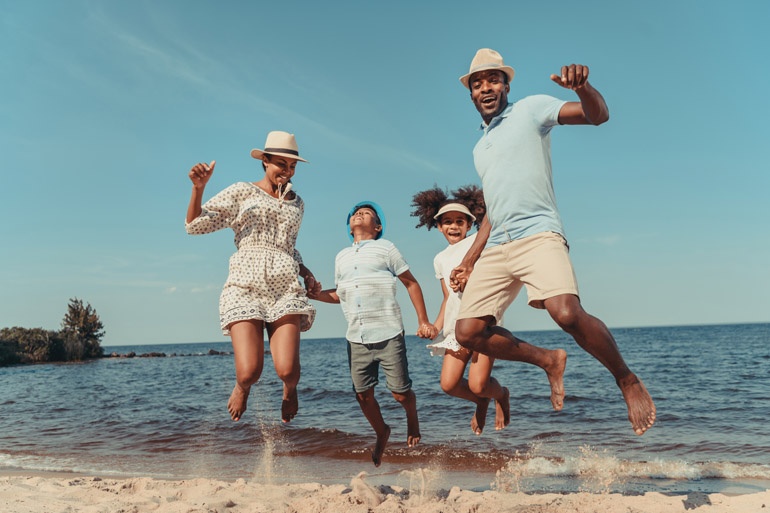 They come in early. They stay late. And day after day, your employees give it their all. Don't they deserve a break? The answer is yes – and so do you!
Unfortunately, fewer Americans than ever are using all of their vacation time. On average, U.S. workers forfeit more than $66 billion in time off annually. This isn't just problematic for the employees; it's also bad for their companies.
Often, a company's most hardworking employees are reluctant to use their paid time off. This is especially true if they feel their work is going to pile up while they're away. No one wants to leave the office when they know they will have an extra 40 or 50 hours of work on their desk when they return.
Let's take a closer look at what you can do to help prevent this from occurring and make it possible for your employees to have a worry-free vacation. But first, let's examine why taking time off is so important.
The importance of vacation
Your employees are so much more than workers. They are unique individuals with families, friends, hobbies, and passions. And they deserve time to invest in these areas outside of work. Otherwise, they risk burning out, and this can have disastrous consequences for their company, as well as their own well being.
When employees burn out, their engagement and productivity levels decline significantly, and on-the-job mistakes multiply. This can wind up costing companies a fortune. On the other hand, when employees take time off, they return to the office rejuvenated and ready to tackle the tasks at hand.
This not only does wonders for your employees' psyche and overall well being, but it also helps you attract top industry talent. Maintaining a healthy work-life integration is critical to all employees, but it is of special importance to millennials. Considering they will soon make up the majority of the U.S. workforce, this is one area your company simply can't ignore.
Leadership begins at the top
While 93% of managers say it's important for their employees to use paid time off, nearly 60% of the same group didn't use all of their vacation time. That can send a powerful – and unintended – message to your employees. Maybe this is why less than 40% of employees say they feel supported in taking a vacation.
If your company is serious about employees using their paid time off, managers must use their vacation time as well. This lets your team know it's okay for them to take a break. If your managers are apprehensive about taking some time off, remind them that vacation is more than a fun break – it's an investment in both themselves and the company.
Encourage employees to take vacations
If you want your employees to take vacations, you need to encourage them to do so – and not just once every few years. This may seem so self-explanatory it shouldn't be included on our list, but that's not the case.
A study conducted by Project: Time Off found that while 91% of managers said they actively encourage their employees to take time off, 43% admit they only talked about the subject once a year or less with their employees. The importance of using time off should be an ongoing discussion you have with your team and part of an overall engagement strategy.
Help divide the workload among other associates
The number one reason employees don't take vacations is because they think they will be overwhelmed with work when they return to the office. In addition to reassuring your employees this won't be the case, you need to take actionable steps to prevent this from occurring.
This means conducting an analysis of your employees' strengths and weaknesses. You likely already know these, but sometimes it helps to put pen to paper. Once you've identified everyone's top traits, you can divide the soon-to-be vacationer's tasks among the team.
Better yet, empower your employees to split the tasks amongst themselves at their own discretion. If you're hesitant to do so, simply ask for a summary of the division of labor. If anything stands out, ask your team why they made that decision and adjust the task owner if necessary.
Creating a Culture of Engagement at your organization
Finally, the most important step your company can take is to invest in creating a Culture of Engagement that encourages using paid time off and reinforces each employee's value, as both a team member and an individual.
When your company makes employee well-being a cornerstone of your engagement and recognition strategy, your team accomplishes much more than utilizing paid time off. Profits increase, turnover shrinks, and productivity skyrockets – and that's just to name a few of the benefits.
If you're looking for ways your company can begin engaging its employees, you can download C.A. Short Company's most popular eBook, 35 Ways to Influence Corporate Culture and Increase Your Bottom Line. It's loaded with tips and ideas you can use to engage your workers throughout the entire year.
And if you'd really like to jumpstart your engagement efforts, please reach out. C.A. Short Company has been in the engagement and recognition industry for more than 80 years, and we'd love to show you the difference we can make at your organization – one vacation at a time.

C.A. Short Company partners with companies to manage, drive and facilitate increased employee engagement to increase financial performance, productivity, quality, and core performance outcomes. Our process and research-based platform enables executives and managers to engage their teams to increase the bottom line, motivate staff, and incentivize positive behavior. To Request a Complimentary Consultation, click here.