10 Creative Ways to Show Employee Appreciation

R Scott Russell, CRP, CEP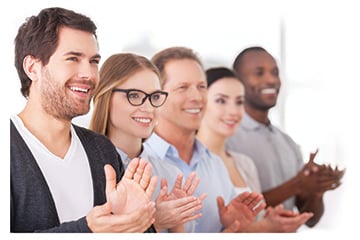 Studies have shown repeatedly that an atmosphere of encouragement and appreciation has a huge impact on employee performance, engagement and retention. Simple, yet personal methods for recognizing the work of your employees is the way to gain traction in these areas. Let's take a look at ten creative, high value ideas for showing employee appreciation and promoting a healthy, purposeful atmosphere within the ranks.
THE Heartfelt list
1) A Simple Ask: It goes without saying that all the expert tips in the world are really no replacement for a word straight from the horse's mouth, so to speak. Ask your employees directly what kinds of incentives and recognition they most appreciate. Involving them in the process contributes to the sense that they are valued and heard. Ask us for a copy of our "How I Want to Be Recognized" checklist and share it with your employees to gain more personal insights.
2) Personal Notes: A handwritten note communicates so much more than the words on the page. It represents time and thought. It conveys a recognition of the value of the receiver. Especially when hand-delivered by a manager or CEO, a hand-written note says "you matter", "you are important to our organization." If handwritten notes just aren't feasible for your organizational structure, utilize an eCard platform or tool like People Are Everything to communicate encouragement with your employees.
3) Peer to Peer: While the occasional special recognition from a leader can be a career highlight, daily interactions between co-workers have a profound effect on the atmosphere of the workplace. Making it easy for employees to recognize and encourage their team members helps promote a positive culture and support. Peer to Peer recognition is the top trend in recognition programs today.
4) Wall of Fame: A message board where peer-to-peer shout-outs are encouraged can be a fun, light-hearted way to cheer each other on and celebrate daily achievements together as a team. This could be as simple as post-it notes on a cork-board or as complex as digital signage throughout a facility. Creating the space and encouraging participation is the key factor here. Traditionally, a Wall of Fame only supported the best and brightest in an organization. Today, however, these types of message boards are expanding their purpose to highlight others along the journey of success.
5) Inclusion in Company Website: An organization's website always includes the photo, name, and title of the folks at the top. But if every member of the team also has a small corner of the website dedicated to them and their role in the company, that's another reason to feel like a valued part of the organization. There aren't many people in this world that don't love to see their names in print.
6) Public (or Social) Recognition: And on that note, never underestimate the power of public recognition, for example, on the company's social media feed, or cover of an in-house publication. Being commended in print holds a significance above a verbal commendation. Our People Are Everything social recognition room provides a more public avenue to recognize employees in front of all company users.
7) Make their Lives Easier: Providing side-perks to enrich your employees' personal lives can provide a huge ROI. An in-house gym (or special discount at a local gym), child care help, transportation assistance, flexible work arrangements or even a snack bar stocked with healthy treats are ways to show an employee that their value exceeds the number on their paycheck.
8) Community Involvement -- Inside and Outside the Office: Involving your employees in staff-wide social events is a great way to enhance peer-to-peer relationships. Getting your organization involved in local community engagement projects is an even higher level of investment -- a reminder to your team that they belong to something bigger.
9) Celebrate Personal and Business milestones: Keeping a working knowledge of an employee's life outside the workplace is an important part of valuing them as a whole person. Encouraging people to celebrate their accomplishments on the ball field, or in the gym is just as important to morale and culture as acknowledging their successes in sales numbers, or customer care. Employees want to know that you care about their well-being in and out of the office. A milestone program that celebrates an employee's dedication and loyalty overt time is a great way to celebrate an employee's years of service with a company. Find those personal and business milestones and start recognizing.
10) Personal Enrichment: Programs that provide employees with continuing education and personal development opportunities send a loud message to employees. They say, "you are worth investing in." Employees want to know that they are doing the right things and that there is a path forward. Personal development is enriching for the employee and the organization.
Being a Present and ENGAGED Manager
It's truly about being present and engaged for our people. Employee appreciation and recognition begins and ends at the top. Managers must understand the importance of being there for the people that count on them the most. This requires deliberate, heartfelt planning and interactions. By utilizing the list above and purposely developing "moments" to share how much we appreciate the efforts of our people, we'll be well on our way to creating a culture that makes us all proud.
Looking for more ways to interact and create that culture of appreciation and recognition at your workplace? Download our Total Recognition Checklist to be sure that your program is the best it can be…or contact us and let us help you create a program that fulfills all the engagement needs of your organization.