ICYMI: Watch C.A. Short Company on Worldwide Business with kathy ireland®

Jeff Ross, CPA, CRP, CSM
Last year, we were invited to speak about the importance of employee engagement on Worldwide Business with kathy ireland®. During our time on the show, we discussed changing the way organizations look at employee engagement, as well as bringing solutions to the problems of employee disengagement.
The Side Effects of Employee Disengagement
The side effects of employee disengagement can be devastating to your company. A disengaged workforce is more prone to safety incidents, lower quality work, mistakes, and turnover of customers and employees. A recent Gallup study estimated that a disengaged workforce is costing America $450 Billion a year.
Jeff Ross, President and CFO of C.A Short Company, profiled disengaged employees describing them as:
Uncaring about their work
Disenchanted by work
Arriving late to work
Not collaborative and unwilling to work with other people
Less productive
Seem to be overall displeased with work
The Short Story of Employee Engagement
Several studies show that organizations with high levels of employee engagement outperform their competitors across major core performance areas related to profitability, productivity, talent acquisition, shrinkage and theft, absenteeism, safety incidents, and quality.
Gallup finds that companies in the top quartile of employee engagement compared with those in the bottom-quartile exhibited: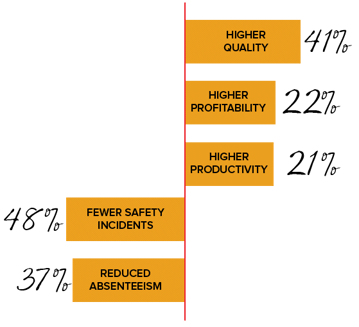 C.A. Short Company helps organizations turn employee engagement around, profoundly impacting their bottom line. We pride ourselves on creating customized employee engagement and employee recognition solutions for our clients that are paired with our technical platform, our People Are Everything Employee Engagement Platform.
In addition to helping organization's solve challenges in the workplace, like absenteeism, turnover, and profitability, we help to create a workplace where people WANT to work and consistently go above and beyond and feel a greater sense of connection to their work.
This is what we call creating a Culture of Engagement.
C.A. Short Company partners with companies to manage, drive and facilitate increased employee engagement to increase financial performance, productivity, quality, and core performance outcomes. Our process and research-based platform enables executives and managers to engage their teams to increase the bottom line, motivate staff, and incentivize positive behavior. To Request a Complimentary Consultation, click here.