Importance of Years of Service Awards

Jeff Ross, CPA, CRP, CSM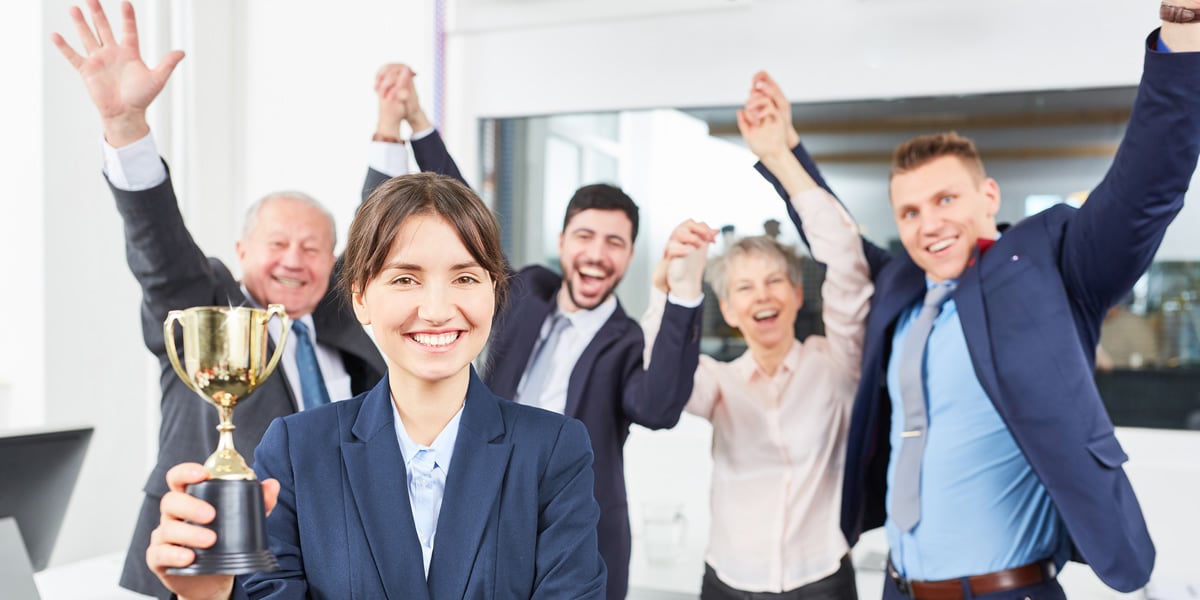 More than 80 years ago, C.A. Short Company decided that we would do things differently. At a time when employers were demanding more and more from their employees while offering them less and less, we believed there was a better way.
We knew we could help create an environment where everyone wins – and we mean everyone.
In fact, to realize the greatest profits possible, there must be three clear winners:
the organization and its stakeholders
their customers, clients and partners, and – above all –
their employees
When synergy occurs between these three groups, the results are dramatic.
How does a company achieve this?
Employee recognition plays a vital role in this process, and a core component of every successful recognition strategy lies in the effectiveness of one's Years of Service, or Work Anniversary award program.
WHAT ARE YEARS OF SERVICE AWARDS?
Years of Service awards. Employee Milestone awards. Work Anniversary awards.
It doesn't matter what you call them, it all means the same thing – formally honoring your employees for their loyalty and commitment to your organization. Typically this involves a once-a-year ceremony where a small number of employees are recognized for hitting a noteworthy work anniversary.
In the old days, employers would wait until an employee's five-year anniversary to honor them. Yet, as we will discuss in detail further on, waiting until the five-year mark before rewarding an employee's loyalty no longer makes sense.
Years of Service (YOS) awards still deliver tremendous results – if you know how to adapt them to today's dynamic workforce. Before we show you how to do this, let's take a closer look at why Years of Service awards play such a vital role in the success of your company.
WHY IS IT IMPORTANT TO RECOGNIZE AN EMPLOYEE'S WORK ANNIVERSARY?
Lack of employee recognition in the workplace
There is a frightening lack of employee recognition in today's workplace, and it's having an unprecedented impact on the workforce. To understand the challenges many businesses face, we need to look no further than the transportation industry.
Over the past few years, we have seen record-setting shortage of drivers – a trend that shows no signs of slowing down. Turnover rates also skyrocketed to more than 90%.
Don't think the transportation industry is alone! Thousands of businesses across the nation shutter their doors on a yearly basis. And we're not just talking about struggling mom and pop operations – we're talking about juggernauts.
Toys 'R' Us. H.H. Gregg. Radio Shack.
These are all examples of once-great businesses that filed for bankruptcy. What's more shocking is that these bankruptcies all occurred in the same year – and they represent just a few of the many businesses that folded in 2017.
We'll leave others to speculate about the specific missteps each company made. Instead of discussing failure, we'll discuss success. You see, what we've learned throughout our 80+ years in the employee recognition industry is that employees who are engaged and recognized can take on ANY challenge thrown their way.
Unfortunately, many employers fail to see the connection between employees and customers — and it costs them some of their best talent. As we mentioned above, employee turnover has skyrocketed in recent years. Do you know the number one reason most employees leave their jobs?

They don't feel appreciated.
In a recent survey, 66% of respondents say they would quit their jobs if they didn't feel appreciated. When it comes to millennials, who will very quickly make up a majority of the U.S. workforce, that number increases to a staggering 75%.
They're not making an empty threat either. Millennials are more likely to leave their job than any other generation in history. In fact, six out of 10 millennials say they're open to a new job right now, and nearly 25% have changed jobs within the past 12 months.

For the purposes of this resource, we'll focus on statistics and proven strategies that relate to all generations in the workforce. However, if you'd like to learn tactics and strategies you can use with millennial employees, you can download our complimentary eBook, "A Guide to Retaining Top Millennial Talent."
The benefits of an engaged and recognized workforce
The above stats may paint a dire picture of today's workforce, but you shouldn't let them discourage you. In fact, they should inspire you.

How could these statistics be inspirational?!?!
Because they mean you have a real, tangible opportunity to differentiate yourself from the millions of other employers around the globe. When a company invests in creating a comprehensive Culture of Engagement and Recognition at their organization, current and prospective employees take notice.

And that's just one of the many benefits a highly engaged and properly recognized workforce yields.
Back in 2017, Gallup released an update to their eye-opening study, State of the American Workplace. The report is fantastic, and you should make time to read it in its entirety. However, here are a few standouts you need to know NOW.
By comparing companies that score in the top quartile of employee engagement and recognition to businesses scoring in the bottom quartile, Gallup discovered that top-performing organizations experience:


Reductions in turnover that range from 24% to nearly 60%
41% reduction in employee absenteeism
As much as 70% fewer safety incidents
Reduced patient safety incidents, by nearly 60%
28% reduction of shrinkage
40% fewer quality defects
10% improvement in customer metrics
17% higher productivity levels
20% more sales than their competitors
Profitability increases by as much as 21%
HOW DO YEARS OF SERVICE AWARDS FACTOR INTO A TOTAL RECOGNITION STRATEGY?
If an organization hopes to achieve any or all of the benefits listed above, it must first commit to a Culture of Total Recognition. You can learn more about what this means (and how your company can create such a culture) in our ebook on the topic.
But for now, let's stick to the basics.
Total Recognition occurs when a business recognizes employees across three core levels: formal recognition, informal recognition, and day-to-day recognition. If a recognition strategy is missing any one of these levels, it will prevent the business from obtaining Total Recognition. As a result, they will miss out on the benefits of a highly engaged and recognized workforce.
Years of Service awards play a vital role in the first of these core areas – formal recognition.