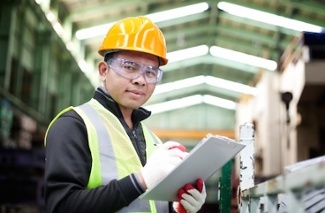 Employees are the lifeblood of every organization, and their health and well-being should be the top concern for any company. They work hard and put in long hours so that your business can thrive, and the least they deserve is to work in a safe environment.
Unfortunately, if you don't have an excellent safety awareness program in place, costly accidents are bound to occur.
When employees are injured on the job, it doesn't just affect the employee and their family, it affects your company's bottom line. Your organization will see a noticeable drop in productivity, morale and even profit.
In fact, OSHA® recently announced a substantial increase in fines for companies found to be in violation of their rules and regulations. This 78% increase marks the first time that OSHA has updated their fine structure in the past 26 years.
OSHA Explains Changes to Their Maximum Fine Amounts
According to OSHA, the one-time increase was a reflection of the inflation that occurred during this time frame:
"In November 2015, Congress enacted legislation requiring federal agencies to adjust their civil penalties to account for inflation. The Department of Labor has adjusted penalties for its agencies, including the Occupational Safety and Health Administration (OSHA)."
Any citations issued by OSHA on or after August 2, 2016, will be subject to the new maximum penalties, as long as the violations occurred after November 2, 2015. Now, let's take a look at the actual breakdown.
Fines for serious violations have increased from $7,000 to $12,471 per violation. "Failure to abate" now commands a $12,471 fee, up from $7,000. Willful or repeated violations now bring in a staggering $124,709, a major increase from $70,000.
How Can You Avoid These Penalties?
In order to avoid these penalties and ensure that your employees operate in a safe environment, it's critical that your company utilizes a comprehensive safety awareness program. While there is no shortage of safety awareness & incentive programs on the market, selecting an OSHA® compliant program is key to the success of your company.
But, how do you know what constitutes an OSHA compliant safety incentive program? For starters, there will be a major emphasis on leading indicators and employee engagement.
Employee engagement is a deeply rooted, emotional connection with an organization and its values, which creates and influences a positive corporate culture that fosters prosperity. An engaged employee is motivated to see the company reach its goals and has a sense of ownership regarding the wins and losses that are felt along the way.
When employees are engaged, companies experience 48% fewer safety incidents, and absenteeism and turnover rates reduce by 37%. These same companies also see a 22% increase in profitability and a 21% increase in productivity.
For these reasons -- among many others -- you should be certain that the safety incentive program you select focuses on proactive safe work behaviors and engaging your workforce. Without these crucial elements, your safety plan is doomed to fail.
C.A. Short Company partners with companies to manage, drive and facilitate increased employee engagement to increase financial performance, productivity, quality, and core performance outcomes. Our process and research-based platform enables executives and managers to engage their teams to increase the bottom line, motivate staff, and incentivize positive behavior. To Request a Complimentary Consultation, click here.