How to Use Mobile Apps as an Employee Engagement Tool

Jeff Ross, CPA, CRP, CSM
Technology is Changing the World
As we all know, technology today is changing the world. Nearly everyone has a computer or a smartphone. It is amazing when you walk into cellular stores; they have a choice of 40 smartphones and one basic flip phone. What is that song by Bob Dylan - "The times they are a-changing."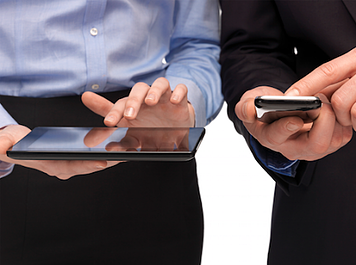 And changing it is! I remember when I first began using a PDA… And no, that was not a public display of affection, but rather a personal digital assistant. I was able to check my emails on the road and communicate with the office without having to make multiple phone calls a day. It was genius! I have become dependent on such technology and I am not alone in that. Millions of people depend on this technology daily.
Mobile Technology is the Solution
With many companies now struggling with more ways to engage employees, many providers have chosen to use mobile applications, also known as an app, to meet these needs. With industry research now showing that more than one billion people in the workforce will have and be using mobile technology by 2015, mobile applications will be viewed as a crucial part of increasing employee engagement and communication.
Being able to keep information in the palm of worker's hands can increase employee engagement through communication whether at a corporate office, a branch or across the globe. The question is then: how do we communicate to everyone? How do we recognize and engage everyone? Mobile technology is the solution. Providing an application that is accessible, easy to use, simple, and well designed will increase employee engagement. Engaged employees outperform unengaged employees by 59%.
Key Steps for Successfully Implementing New Technology
As you begin your walk into the world of technology, here are a few key steps to remember:
Prepare your IT group and ensure you have the in-house abilities to support your move to the app industry
Determine what is the goal of developing an app
Build your scope
Get input from all areas of your company to ensure you don't miss what is truly important
Develop a communication plan because COMMUNICATION IS KEY!
Launch your app
See your employee engagement levels increase
At C.A. Short Company, we are your partner for increased employee engagement resulting in increased performance outcomes to grow your bottom line. Our process and research-based platform helps you engage your team in order to increase your bottom line, motivate your staff to the benefit of the entire organization, and reward your people for the positive changes they make. To request a Complimentary Consultation, please click here.