Why Should You Consider an Employee Recognition Program?
Businesses with fully engaged employees have increased awareness, productivity, and happiness at work, which leads to fewer accidents, days off, and poor behavior patterns.
Only 30% of employees are fully engaged, according to current research.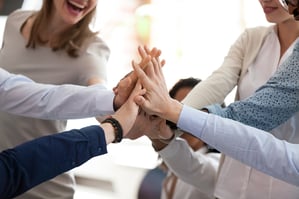 Employee recognition programs are shown to have a connection to high performance, retention, loyalty, safe behavior, and increased profit margins.
In a study based on stock performance in Fortune's "100 Best Companies to Work For," companies with engaged employees returned 14% per year on each dollar invested, while the overall market return was only 6% per year. An engaged workforce is more skilled, creative and loyal, thus creating a higher customer satisfaction, customer loyalty, and company profits.
Here are a few more ways businesses with high levels of engagement outperform their peers:
41% Lower Absenteeism
20% Higher Sales
10% Higher Customer Metrics
21% Higher Profitability
Much More!
C.A. Short Company has the employee recognition programs that will align with your corporate goals and engage your people, allowing you to meet and exceed your business objectives. At C.A. Short Company, our goal is to work with organizations that believe as we do: the bottom line in business is that ENGAGED people are everything. Employee recognition is one way you show that.
What Recognition Program Works Best for Your Team?
Whether your goal is to improve the overall value and quality of your employees service, to manage and promote safe behavior within your safety culture, or to implement creative employee performance ideas for keeping your workforce motivated and focused, C.A. Short Company can help you meet your needs! We have many program options and our Certified Recognition Professionals can help you customize your program to exceed your recognition needs. All this is accomplished while staying in budget with our Guaranteed Budget Controlled Pricing.
If you'd like to know more about what C.A. Short Company can do for your company, reach out. We're here to help!