10 Best Practices for Creating Years of Service Awards that Work in 2020

R Scott Russell, CRP, CEP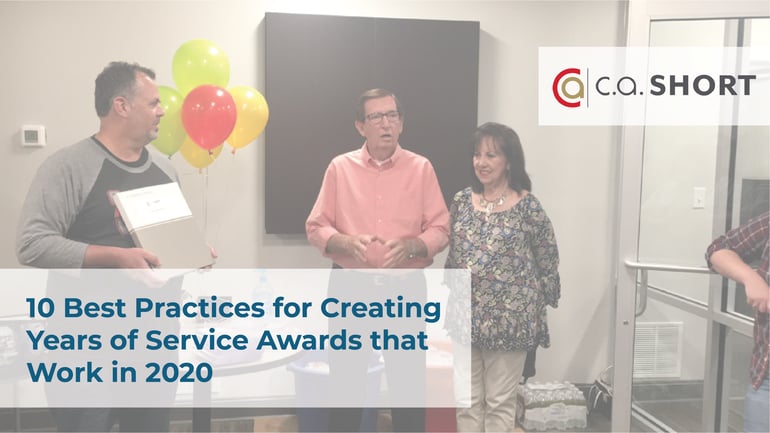 This article is dedicated to Buford Ellis, whose dedication and commitment to C.A. Short Company has inspired us for more than 60 years. You've made us better employees, better managers, and better friends. May your retirement be filled with the same love you showed all of us.
YOS awards have been a mainstay in the business world for decades. However, a rapidly changing workforce has altered how we must approach them. What worked 30, 20, or even 10 years ago is no longer enough.
That's why C.A. Short Company is proud to share with you these 10 best practices for offering employee Years of Service awards in 2020. In this article we also share how we used these tips to recognize one of our own team members and promote employee engagement throughout our organization.
1. Carefully plan your Years of Service awards (and stick with it)
One of the most damaging mistakes companies make when it comes to their YOS awards program is failing to adequately plan. They treat it as more of an afterthought than what it truly is – a very powerful tool that can yield tremendous dividends for your organization.
Once you've created a comprehensive plan, you need to stick with it. Consistency is key here. If you give Susan an award for her three-year anniversary and overlook Jake's three-year anniversary, your YOS awards efforts will only create problems.
This level of consistency should also extend to the types of rewards you offer employees. These should be the same value for every employee, and it should correlate to the milestone they're celebrating. Meaning, the reward an employee receives for being with your organization for 10 years should differ from those awarded during a three-year anniversary.
2. Offer Years of Service awards sooner
When crafting your YOS awards program, you'll need to carefully analyze what milestones your organization will celebrate. This is a crucial component of your strategy, and it's also one that has changed the most in recent years.
Historically, companies have offered awards beginning at the five-year level. However, in today's evolving workplace, your company must start much sooner. To combat rampant turnover, especially for millennials – who are far more likely to walk away from their jobs, industry research shows you should offer awards at the minimum one-year, two-year, and three-year marks.
However, if your business or industry suffers from unusually high levels of turnover, you should consider offering recognition and awards even sooner, perhaps at the six-month mark. When recognizing these service milestones you can reserve the more elaborate award parties for the larger anniversaries, while utilizing a YOS program to cater to the younger generation. These programs allow you to decrease absenteeism, turnover, and shrinkage while making it easier for managers to recognize their employees. Awards can range from tech gadgets, toys, concert tickets, and more.
3. Get buy-in from your entire management team (as well as non-managers)
For any program to be successful, you first need buy-in from your team. This includes everyone – from the most senior members of management to new and part-time employees. You must ensure that your entire team understands not just the value of YOS awards, but that of your entire recognition strategy.
While top-down recognition and praise are essential, your strategy should also include peer-to-peer recognition that encourages employees to praise each other! Peer to peer recognition is extremely important because it fosters teamwork, builds employee confidence, and improves workplace communication. It often helps build your company culture, while improving performance and employee bonds.
4. Celebrate your employees publicly
One of the most essential elements of recognition is that you praise your employees publicly. This type of attention has many benefits, but two of the most important are:
It helps reinforce the positive action your employee took

It inspires fellow employees to take similar actions
While this is true for all forms of recognition, including your day-to-day efforts, it's especially pertinent for special events like YOS awards and retirement. We recently experienced one such example of this when we celebrated the retirement of Buford Ellis.
Here are a few photos of the celebration, which included Buford's loved ones, his co-workers, and our executive team. Buford is an incredibly talented individual who we were fortunate to have on our team for 60 years.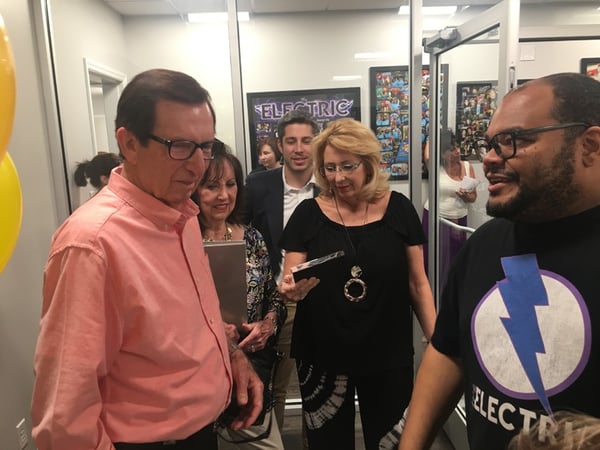 5. Involve an employee's loved ones in your Years of Service awards ceremony
Another important reminder that comes from Buford's retirement party is that you should always involve your employees' loved ones – even if they can't personally attend. In Buford's case, we reached out to his daughter who supplied us with this fantastic message we turned into a plaque!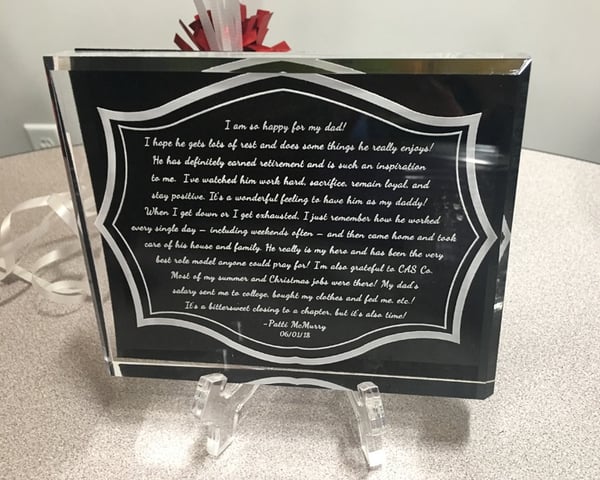 Of course, it doesn't have to be a plaque. Most people's phones can record video in high-def quality. Request that an employee's spouse, partner, or children record a special message for their loved one. That way they can participate in the big celebration even if they can't physically attend.
6. Choose a memorable awards banquet theme
The YOS presentation or awards ceremony must be memorable to have a lasting impression — if you want to create a Culture of Total Recognition. One way to achieve that is to choose a banquet theme that will stay with them for years to come!
Here are a few examples of great ideas for service award banquet themes. This year, C.A. Short Company's ceremony was casino-themed – and it was complete with games, dealers, and live entertainment.
7. Personalize the awards ceremony
No matter what awards ceremony theme your company picks, there should be one constant every ceremony should include: personalization.
Again, the goal here is to create a truly memorable experience for the employees you're honoring. To do that, you'll need to personalize the ceremony by mentioning specific examples of your employees' contributions. If you can't readily think of any, it likely means you aren't recording and rewarding employee efforts as well as you could be.
Our Years of Service engagement platform gives you the ability to track engagement insights in an easy to use format. It collects data on managers and employees, allowing you to easily analyze which employees should be recognized more often.
8. Reward employees with what they really want
As with the theme of your awards party, your rewards should also be personalized. Some companies make the mistake of guessing what an employee wants. Or just as bad, they give the employee cash that is forgotten as quickly as it's spent. You can avoid these missteps by providing your employees with values-based points they can redeem for the reward of their choice. Additionally, this allows you to standardize the amount each employee receives.
For maximum results, you should also offer an instant award program that works similarly for day-to-day recognition.
9. Consider working with a company that specializes in engagement and recognition
If you'd like your YOS awards programs to bring in the biggest bang for your buck, it's a good idea to work with a company that specializes in developing engagement and recognition strategies. They can take a lot of the guesswork out and save you a lot of money in the long run.
Our Years Of Service Program promotes communication between peers, managers, and employees, while tracking recognition and overall engagement. It can help provide you with in-depth insight into your company and determine the best ways to recognize your employees.
CA Short YOS from R Scott Russell on Vimeo.
10. Remember why you're doing this
Finally, the most important advice we have is to remember why you're doing this in the first place. Yes, the benefits YOS awards programs generate (improved retention, increased engagement, etc.) are excellent. But, the real reason you should offer this program is because it's the right thing to do. Your employees have made a clear choice – to be loyal to your organization. They should be recognized and rewarded for that dedication.
Next Steps
We hope our list helps you make the most of your YOS awards program!
Please keep in mind, our tips were specific to YOS awards ceremonies, which are typically held only once a year and rarely land on an employee's anniversary date. However, do not overlook your employee's actual anniversary. On that particular day, be sure to extend recognition in some way, whether through a handwritten card, flowers at the office, or even an eCard from your engagement portal. Then, you can honor the employee more formally at the YOS awards ceremony!
If you're looking for additional ways to improve your current recognition efforts, you can download our complimentary checklist, Designing an Employee Service Award Program. Our checklist is loaded with tips you can use for creating a successful program that will ensure your employees feel valued by the firm and their peers. If you have further questions, please contact us. We're only a phone call or click away, and we'd love to help you honor your employees!
Editor's Note: This article was originally published on August 17, 2018 and has been recently updated.