Improve Retention, Safety, Quality, and Profitability in the CPG Sector with Safegagement™

Jeff Ross, CPA, CRP, CSM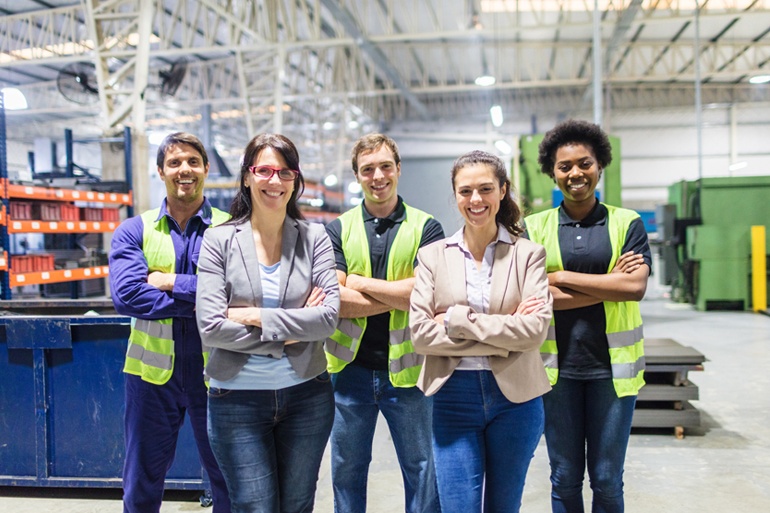 Over the past few weeks, we've written a great deal about Safegagement™ and its role in the Consumer Packaged Goods (CPG) sector. We've done this by tackling big issues head on – dedicating full articles to key concerns such as safety or turnover. But today's post is different. Instead of further breaking apart and segmenting the data, we'll put all those pieces together to see how Safegagement improves your employees' lives, your customers' health, and your company's bottom line.
A formula that's changing the world
If you haven't read our previous blogs on the topic, there's no need to panic. You don't have to be a math whiz to understand a profound, new formula that's changing the way the world does business. It's called Safegagement, and it's as simple and easy-to-remember as it is powerful:
Safety + Engagement = Safegagement
While there is much more to learn about the topic, today's article will analyze the need for – and the impact of – a successfully implemented Safegagement strategy.
Good people are hard to find – and keep
The CPG sector is filled with a number of unique industries. However, they often share many of the same challenges. For example, the hiring and retaining of skilled employees. Companies in the manufacturing, warehousing, and transportation industries struggle with these challenges:
By March 2018, quit levels in manufacturing were 13% higher than those in 2017

Only 17% of millennials agree that manufacturing is a top-career choice

"Finding warehouse labor" now ranks among the top concern for some of the nation's largest companies

Last year, the transportation industry faced the largest driver shortage on record – around 50,000

By December 2017, driver turnover rates in the transportation industry topped 95%
The above statistics paint a clear picture. The world is changing, and what worked for our parents' generation will not work in today's environment. It's no longer just about earning a paycheck.
It's about working for a company whose values you share. It's about feeling valued as both an employee and a human being. It's about being rewarded – and not just with money. Though, as we'll see in the next section, Safegagement™ also has a significant impact on finances.
Improving the bottom line, one employee at a time
Safegagement improves more than your ability to hire and retain top talent. It empowers your organization to generate significant revenue while cutting major costs. Take, for example, the 95% driver turnover rate we mentioned earlier. According to analysts, turnover in the transportation industry costs as much as $3 billion a year.
Of course, turnover isn't the only thing that costs companies. Inefficiency is also a huge liability, costing manufacturing and warehousing companies as much as 20-30% of their annual profit. That equals billions of lost revenue each year.
But the good news is this doesn't have to be the case. When a company invests in a quality Safegagement strategy, its bottom line experiences a major boost:
28% less shrinkage

17% higher productivity

20% more sales

24% - 59% lower turnover

21% higher profitability
The biggest difference of all – protecting your employees and customers
Whether your employees are building products on an assembly line, operating heavy machinery in a warehouse, or hauling products from coast to coast, they deserve to go home – safe and sound – to their loved ones. Unfortunately, the CPG sector can be remarkably dangerous, experiencing record-high levels of safety incidents.

But not for companies who have created a Culture of Safegagement at their organization. Those companies, on average, experience a 70% decline in safety incidents.
In addition to protecting your employees, it's also imperative you protect your customers. Despite the best of intentions, many businesses struggle with providing their customers with safe products.
In fact, more than 15% of Americans get sick each year from contaminated food – resulting in over 3,000 deaths. But companies that invest in Safegagement see product quality improve by more than 40%.
Whether your company sells bagged lettuce, organic eggs, or run-flat tires, protecting both your customers and your employees is the right thing to do.
Safegagement makes it possible.
How do I get started?
If you'd like to learn more about how Safegagement can help your organization improve profits and protect your people, you can download our complimentary slides, Breaking the Mold: How SafegagementTM Is Revolutionizing the CPG Sector. Looking for even more information or have a specific question you think we can help with? Get in touch today!
At C. A. Short, we are your partner for increased employee engagement resulting in increased performance outcomes to grow your bottom line. Our process and research-based platform help you engage your team in order to increase your bottom line, motivate your staff to the benefit of the entire organization, and reward your people for the positive changes they make. To request a Complimentary Consultation, please click here.